Please take a minute to browse past issues of the Warranty Matters GM Edition Newsletter.
If you would like to become a full-time subscriber and receive monthly hard-copy mailings of the newsletter, along with full access to the "Subscribers Only" section of this website, use our online Order Form.
Adobe Acrobat Reader is required to view these files. If you do not have Adobe Acrobat Reader installed, you can download and install it free from www.adobe.com or click this link.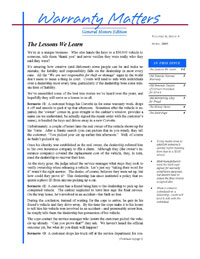 December 2005 Emphasis on PDI
April 2006 Taxing Goodwill Revisited
May 2007 Keep on Truckin'
August 2007 What Causes High Warranty Expense?
December 2007 Finally, the Launch is Here!
July 2008 Simplified Maintenance, Not so Simple?
April 2009 No More Free Doughnuts
June 2009 Myths, Legends and Tall Tales